AUSTRALIAN MOVIE POSTERS
10" x 30" Wartime daybills
Some Australian daybills were printed in a 10" x 30" format during a portion of the war years from approximately 1941- approximately 1945. The commonly accepted anecdotal reason for this is that there was a paper shortage during these years and the narrow format allowed an additional daybill to be printed from one 40" x 30" sheet.
This may or may not be true because there were many daybills printed in the 13" x 30" format but the explanation sounds reasonable.
The interesting thing about these daybills is that there were a number of titles that were printed in the narrow format but in duotone.
This has lead to a great deal of speculation about the originality of certain titles includng "The Glass Key" the 1942 film noir.
Two posters exist for this title including a narrow format 10" x 30" duotone daybills and a full colour 13" x 30" daybill. The question is – which came first?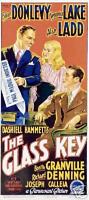 There is little doubt that the narrow format daybill was produced for the original release because this format was clearly only used for a very brief period but when was the full colour version released? It seems reasonable to suggest that, if the narrow format was used for the duotone version then this poster may have been the first release but others would argue that both posters were produced at the same time. If this was the case then why was the full colour version not produced in the narrow format? Both posters were produced by The Richardson Studio. One theory is that the film became more popular than expected and a full colour daybill was produced as it became more widely screened. Bear in mind that there are other examples of a full colour narrow format daybill accompanied by a duotone narrow format daybill.
Australian Pressbooks are very hard to find from this era and if anyone has one that can shed some light on the subject I would love to see it.
The narrow format daybills were most widely printed by
Hollander and Govett
Simmons
Marchant
Offset Priting Company
The Marchant posters featured photographic images that were retouched and they are particularly appealing. The Richardson Studio also produced many narrow format daybills.


These daybills are a unique and interesting part of Australian Movie Poster history and they are genuinely rare and always sought after.
Click on the links below to find…
ALL YOU NEED TO KNOW ABOUT AUSTRALIAN MOVIE POSTERS
© John Reid Vintage Movie Memorabilia