AUSTRALIAN MOVIE POSTERS
Australian daybills 1941-1960
Australian daybill is the term that is used for posters that were produced exclusively for the original Australian release of films.
The majority of daybills issued during this period measured approximately 13" x 30" in a similar format to the US insert. 3 daybills were generally printed from one production sheet of paper. The exception was a brief period during the war years when some daybills were issued in a narrower format and measured approximately 10" x 30". The printers were able to print an additional daybill in this narrow format from one large production sheet of paper.
Daybills were usually hand folded twice and sold to the cinema owners for a nominal fee, often as low as 5 or 10 cents each.
The majority of daybills that were released during these years were printed using the hand litho process. This process resulted in a rich texture of artwork with subtle tonings that was often unique to Australia. Various artists were used but they rarely signed their work. The paper used was often rough on one side, to take the hand litho print, and shiny on the back but there are exceptions. One artist who did sign one or two posters was Frank Tyler who was the artist for many posters during this period. The Richardson Studio also produced art for most of the Paramount posters and their work was quite unique and now highly collectable.
It is important to note that daybills for the original release of a film often included a lesser duotone style. In many cases these are mistakenly referred to as later resissues but they were generally released at the same time the full colour versions were issued.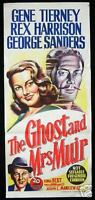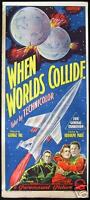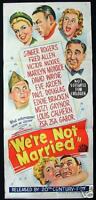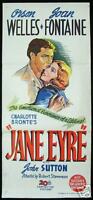 It is generally quite difficult to determine posters that have been reissued. Two examples which come to mind are Butterfield 8 and Cat On on Hot Tin Roof. Both were reissued as full colour daybills with no text to indicate that they were rereleases. The only clue is the printers name at the base of the poster which, in both cases is Robert Burton. Burton did not produce daybills at the time of the original release of these films and the vary rare original posters for these titles both carry older printers names and alternative artwork.
There were many printers of Australian daybills during this era including:
W.E.Smith
Marchant and Co Ltd
Simmons
F.Cunninghame
Schey
Lithostone
Gilprint
Offset
Chromoprint
Victory
New Zealand used Australian daybills and they generally added their own censorship details to the posters in the form of stickers or stamps. They would also occasionally black out areas of the posters that they considered offensive.
Each had their own style, with Marchant posters being particularly unique and desirable for their hand tinted litho graphics.
Click on the links below to find…
ALL YOU NEED TO KNOW ABOUT AUSTRALIAN MOVIE POSTERS
© John Reid Vintage Movie Memorabilia

Free counters provided by Andale.