AUSTRALIAN MOVIE POSTERS
Alfred Hitchcock daybills
Australian daybill is a term used for movie posters that were used for the original release of films in Australia. For more information on daybills see my guides.
PRE 1941
Daybills for many of the early classic Hitchcock movies from the 20s to the 40s are very scarce, if not impossible to find. Daybills for movies that were made pre 1941 were released as "long daybills" measuring approximately 15" x 40". To the best of my knowledge, the only daybills that have surfaced during this period are:
The Ring (1927)
Champagne (1928)
Blackmail (1929)
The 39 Steps (1935)
The Lady Vanishes (1938)
Rebecca (1940)
Mr and Mrs Smith (1940)
Foreign Correspondent (1941)
In most cases only one or two daybills for these films have ever surfaced. I have never heard of or seen daybills for any of the other pre 1941 Hitchcock movies. This is a pity because the artwork on some of the long daybills was different to the US versions and unique to Australia. American one sheets and inserts for Hitchcock movies are much easier to find than Australian posters which were printed in considerably smaller quanitities.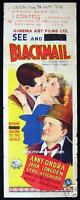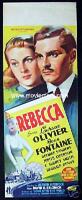 1941 – 1957
Daybills for the movies from these years have been found but, in most cases, they are all exceedingly rare. In some cases like Suspicion and Lifeboat, only one or two daybills have ever been seen. Others like Notorious, Dial M For Murder and Rope are also near impossible to find. This is unlike the US equivalents which can be found with relative ease at any time providing you have the money to spend.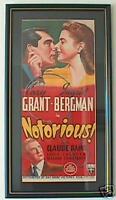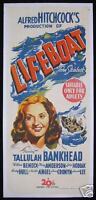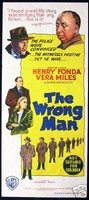 1958-1975
Daybills from this era are generally easier to obtain with the exception of North by Northwest and Psycho which are both extremely rare. There are two full colour daybills for North by Northwest and one is clearly a reissue although it is nearly always passed off as original. The original features the same artwork as the US original one sheets and inserts and is printed by Chromo print while the reissue is very similar in style to the 1964 US reissue and is printed by Robert Burton. The original has rarely been seen but the reissue is still very desirable because it features the famous cropduster scene against the backdrop of Mt Rushmore.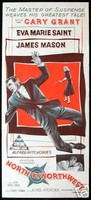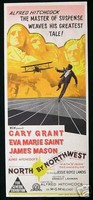 One or two dealers have had a number of "Vertigo" and "The Birds" daybills and most have been sold to America. Although they are easier to find than other daybills, the demand is very high for two of Hitchcock's classic films and the price is generally fairly high.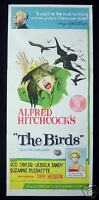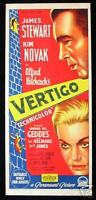 Posters for Torn Curtain, Topaz, Frenzy and Family Plot are generally easier to find and these do turn up occasionally on eBay.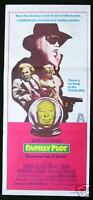 Click on the links below to find…
ALL YOU NEED TO KNOW ABOUT AUSTRALIAN MOVIE POSTERS
© John Reid Vintage Movie Memorabilia

Free counters provided by Andale.